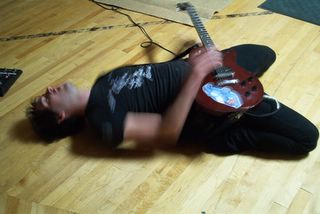 What a weekend! Despite having morning morning production duty for Saturday and Sunday (which means working at 5:30 a.m.), I still managed to see a couple of bands AND a Carolina Rollergirls bout. Seeing the Rollergirls made me want to get out there too, even though I haven't skated since I was about 11 years old. Jessica, who accompanied me all weekend, kept suggesting we get a gang together and go skating sometime. One drawback to that: The Skate Ranch doesn't serve alcohol, which is probably good because I'm sure being drunk wouldn't help my coordination much, but it might numb me to the point that falling down isn't so bad.
On Saturday night we went to Local 506 to see Horsethief, a Charlotte band featuring Jessica's friend Gus, who is one also one of my
Myspace
pals. They're heavy and loud -- two of my favorite qualities in just about any band -- but were actually a tad too plodding for my taste. Since Gus got us in on the guest list, I feel a little bad writing that. I did get a couple of photos, including a nice one of him, so maybe that will make up for it.
Due to my early work schedule, we left shortly after Horsethief's set, but not before spying a skinny emo boy with his pants literally hanging off his ass.
"Oh my God, you've
got
to get a pic of that," Jessica said. See the pics below for the result. After I took the photo, he turned around and began posing for us, so I told him exactly why I was taking his picture, which seemed to make him proud. A few minutes later he strutted on stage, and I realized he was the singer in the second band, Kudzu Wish (from Greensboro, I think), which was having its CD-release show. We stuck around for one song, which I remember being pretty good. He certainly had a manic stage presence.
Valient Thorr (pictured above) was playing later, but we had to miss them. Luckily they were playing the next day between Rollergirl bouts at the Skate Ranch. Jessica has been bugging me for a while to see them, and now I understand why. They're sweaty, hairy and loud, slightly reminiscent of Gluecifer in their early days, and with one of the most entertaining front men I've seen in a while. I was so impressed I bought their CD from their bass player, who informed me that they actually have a new CD coming out soon. Check them out
here
.